— Our Philosophy —
Green Bellies is a company in the business of producing nutritionally superior foods. You are what you eat is more than an adage to us. It is wisdom. We believe if you feed people foods that nurture their hearts and enhance their brain and body functions, you provide them the fuel to attain their utmost potential.
Our Founders
Toni Antonellis and Nicole Derrick
Toni Antonellis has been in the kitchen for over 30 years making traditional family favorites and inventing new ones to pass along to future generations. She has studied cooking in the United States, Italy, Spain and Mexico, integrating techniques and flavors to the core lessons learned from her grandmother and mother.
Toni is equally passionate about linking healthy eating with great-tasting foods. An avid student of nutrition, she has integrated her knowledge into all her food preparation. Toni spent the first year of her food career hosting popular cooking classes and seminars in the Southeast and launched an executive chef service that counts among its clientele professional NFL football star Jason Webster.
For the 26 years prior to embarking on what she refers to as her "career of passion" with the launch of Green Bellies, LLC, Toni was president of TSA & Company, a firm that specialized in strategic/scenario planning and organizational redesign. In the '80s, TSA ventures included the launch of a startup that consolidated human resource functions for small businesses. Upon the sale of that successful business line, Toni refocused TSA solely as a consultancy. After a number of years working across numerous industries, in 2000, she began working exclusively with media companies some of which include: the Toronto Star, The New York Times Media Group, Cox Enterprises, Morris Communications Group, The Hearst Corporation, Knight Ridder and the E.W. Scripps Company. With the onset of the digital age, a number of the media industry's most notable institutions sought out her services. She also served on the Arizona Governor's Task Force for the New Economy. Toni currently lives in San Diego, CA.
Nicole Derrick shares her mother's passion for food and nutrition. After receiving her undergraduate degree, she entered the world of corporate America. Nicole quickly advanced her career to managing the production operations for the leading supplier for private label leather goods for some of the largest department store chains in the country. She regularly traveled to China to select material and oversee quality control. Feeling unfulfilled professionally, Nicole redirected her career. While maintaining her corporate job, she attended and graduated from the Institute for Integrative Nutrition & Columbia Teacher's College in New York. She went on to receive a culinary degree from the Restaurant School in Philadelphia. Nicole joined her mother in co-hosting cooking classes and seminars in the Southeast and operates her own personal chef service in the Philadelphia area, where she currently resides.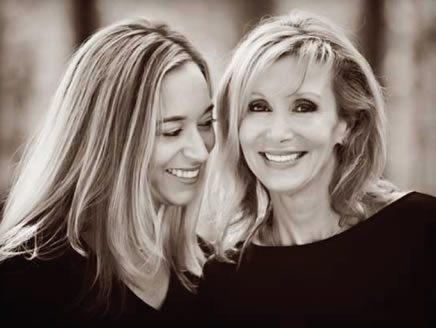 Toni Antonellis and Nicole Derrick are the mother-daughter team who founded Green Bellies.